Chicken and Dumplings
1 medium onion, large chop
1/2 cup dy white wine (Chardonnay)
Fresh ground black pepper
2 medium carrots, peeled, cut into 1/4 inch rounds
2 medium turnips, peeled, large dice
2 teaspoons baking powder
1 tablespoon flat leaved parsley, chopped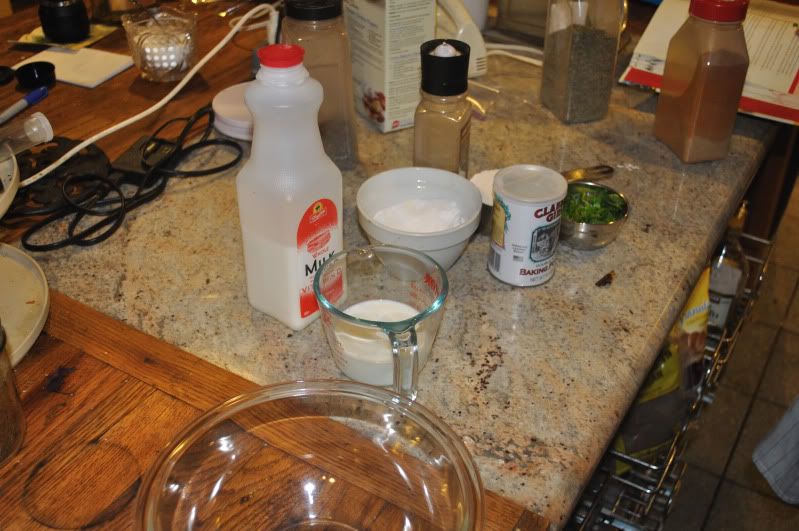 Small ramekin beurre manie (see below)
Rinse and dry the chicken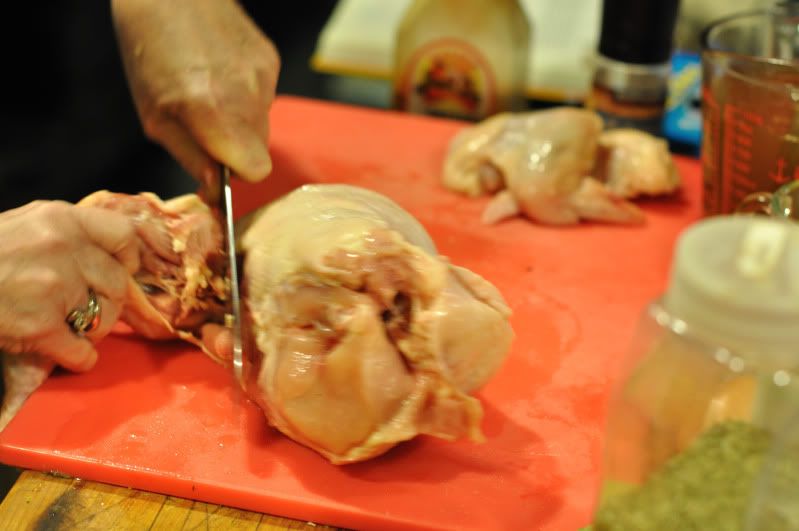 Remove one whole leg quarter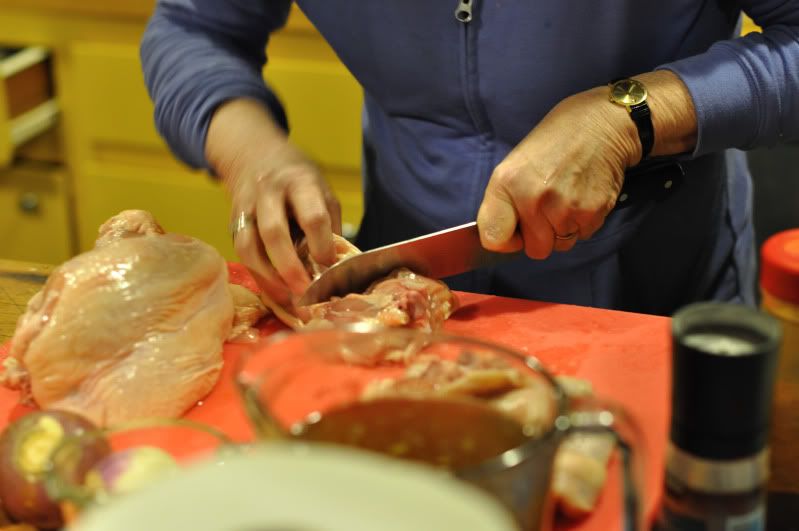 Split both leg quarters into leg and thigh. With the wings that gives us six pieces
Separate the back from the breast. We will save and freeze the back for stock. With the back, the neck and the wing tips we would probably get our two cups of stock, but it would take some time, best to have it made in advance and either frozen or canned.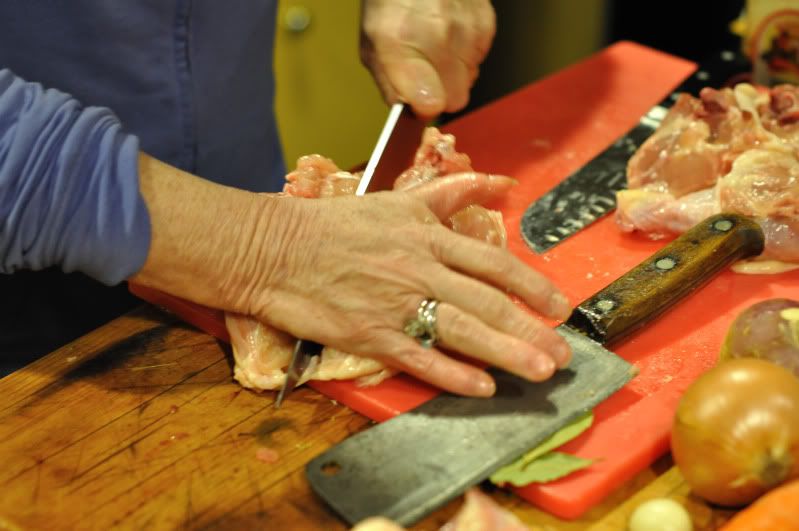 Split the breast into halves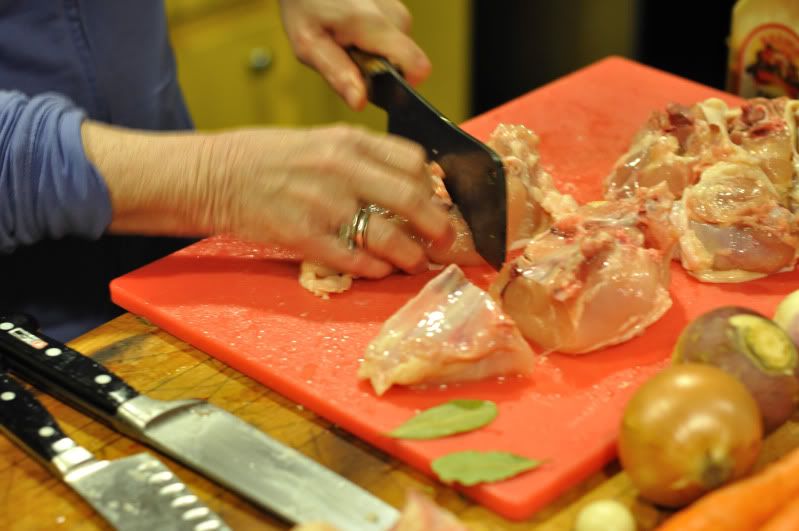 Split each half into quarters. That gives us a total of 10 pieces, plenty for 2 meals for 2 people
Pour vegetable oil into large pan, which will need a cover, and heat. You want the oil very hot but not enough to smoke.
You can see a distortion in the oil, that is also a sign of proper temperature. Put five pieces of chicken, skin side down, in the oil and brown. It is going to cook 4-5 minutes a side, but see below
Leave it alone, checking gently to see if it is loose yet. Don't break the bond with the pan, that simply tears the chicken. When it is ready, it will come loose without leaving anything sticking.
Use the time to prep the vegetables for the dish, see below.
Remove chicken and set aside on plate.
Add the remaining five pieces to the hot oil.
And when browned turn over.
And when done, add to plate of chicken from the first batch. The hot sauce has nothing to do with this recipe. This is a working kitchen and it left from lunch, the crystal bowl is left from Thanksgiving.
Add the onions you prepped while the chicken was cooking and sautee.
This is a good time to ensure that the vodka hasn't gone bad.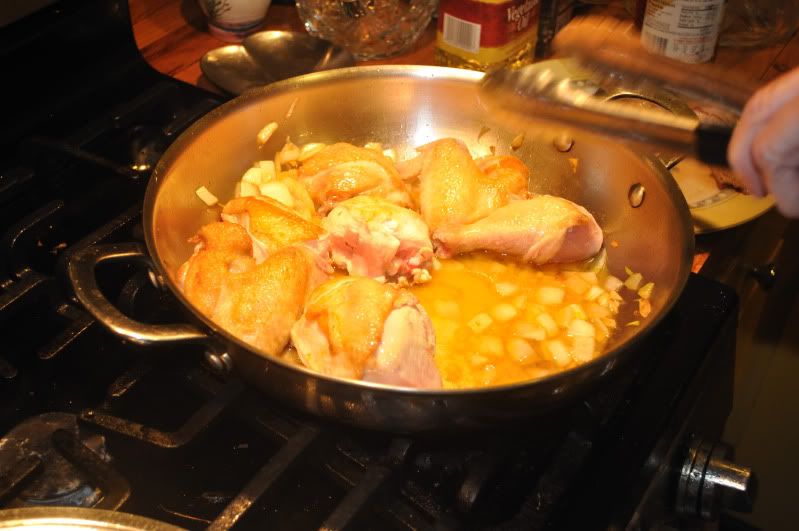 Put the plated chicken back in, this is a good hour and a half from done
Add cayenne, black pepper, bay leaf, garlic and thyme
Cover, set timer for an hour, go enjoy the martini and appetizer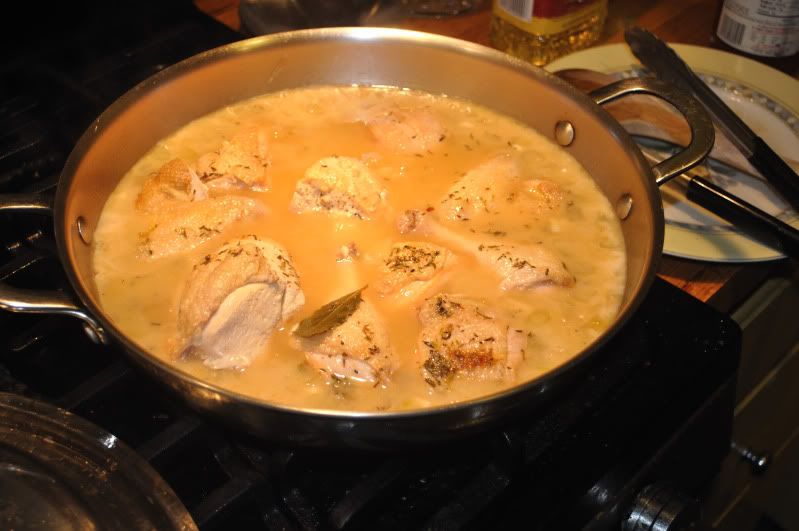 After 15 minutes of cooking, at this point you could remove from the flame for up to 20 minutes, just bring back to temperature before proceeding.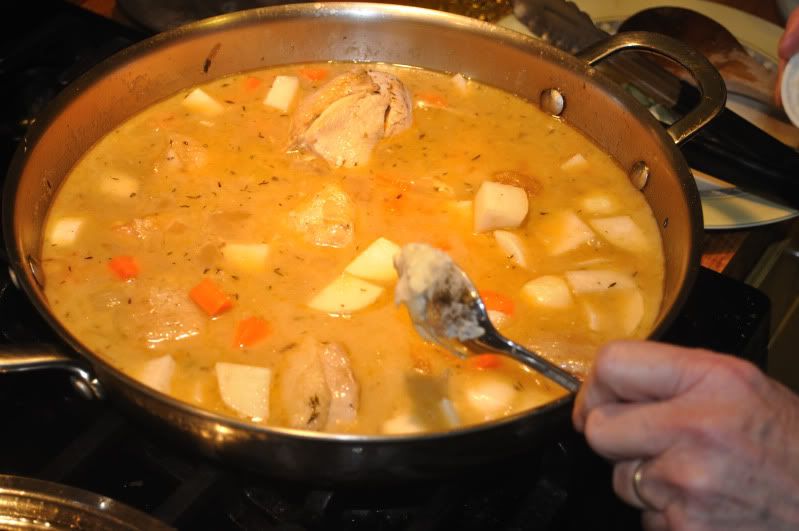 In four or five pieces add the beurre manie. This will serve as a thickening agent.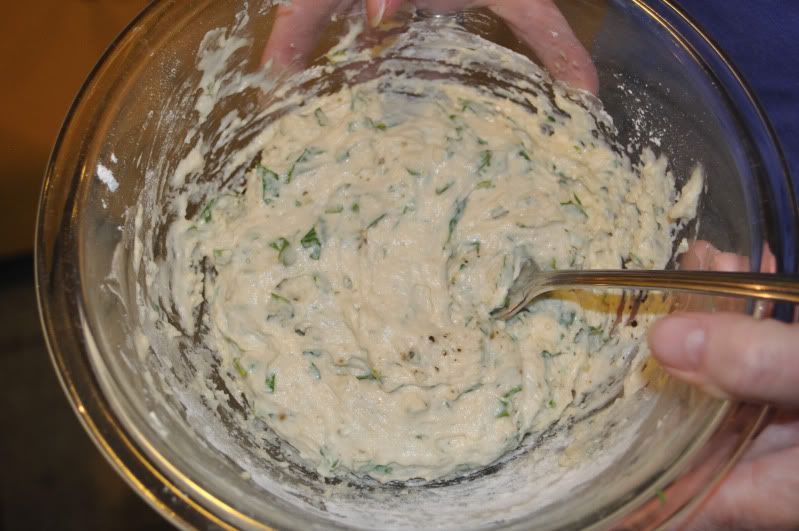 Take your dumpling batter, which you also prepped (see below) while browning the chicken and has been rising for an hour.
In 7 or 8 equal sized amounts, add to the pan.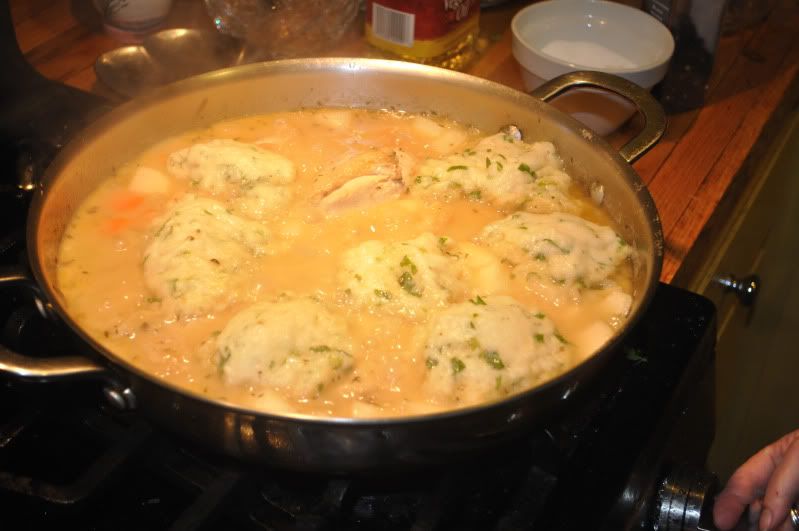 Heat 15 more minutes, with cover on.
There isn't much to this, but a few pictures may help
You don't use a 40 gallon bin for garbage?
Years ago we were having a pool party for 40 or 50 people. I got tired of taking out these small full garbage bags, and brought in a clean bin from the shop with a construction bag, promising a startled Virginia I would change it out before the guest got there. About 10 minutes after I put the small bin back, she wanted her big garbage bin back. It has been there since. The table was built so there is a place for it underneath.
Cut turnip in half, cut each half in thirds, rotate 90 cut in thirds, rotate again and cut again
From bottom and CCW, onion with bay almost out of frame, garlic, carrot and turnip.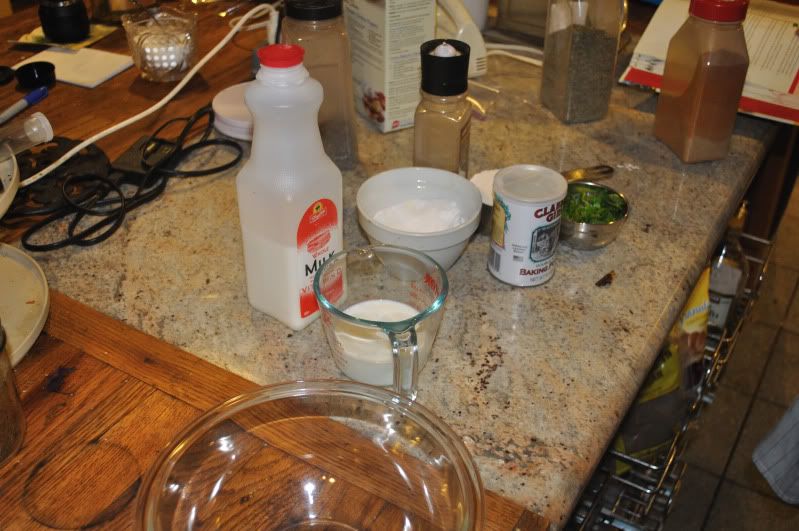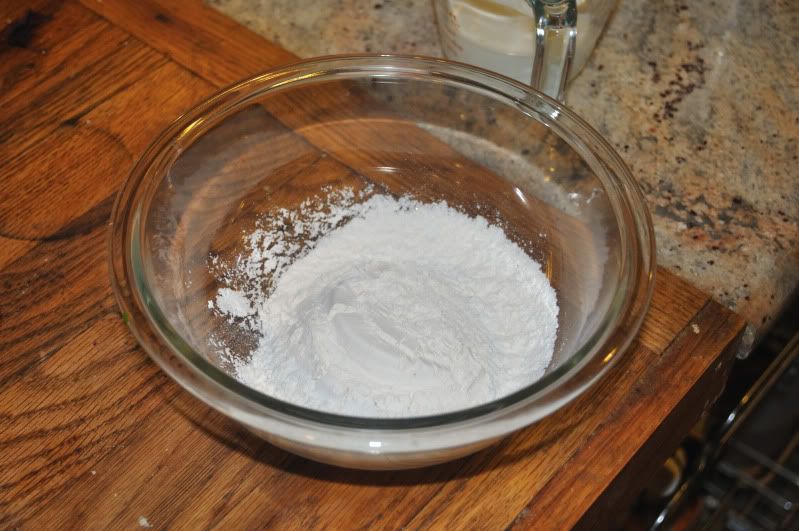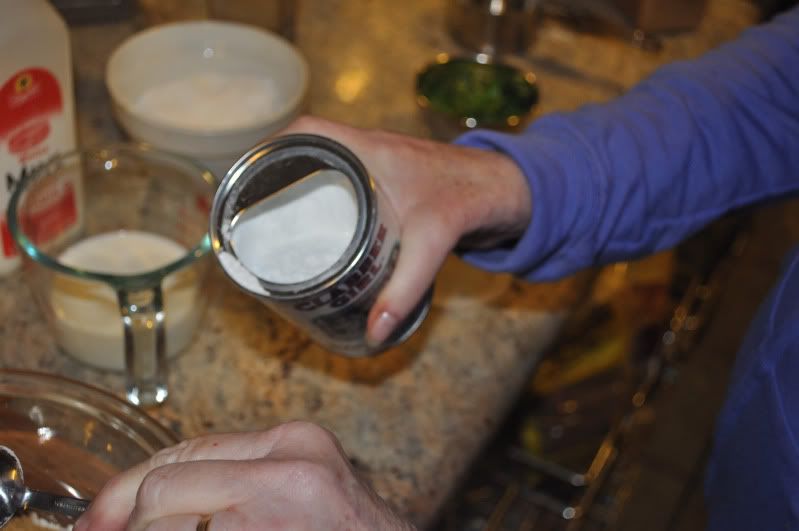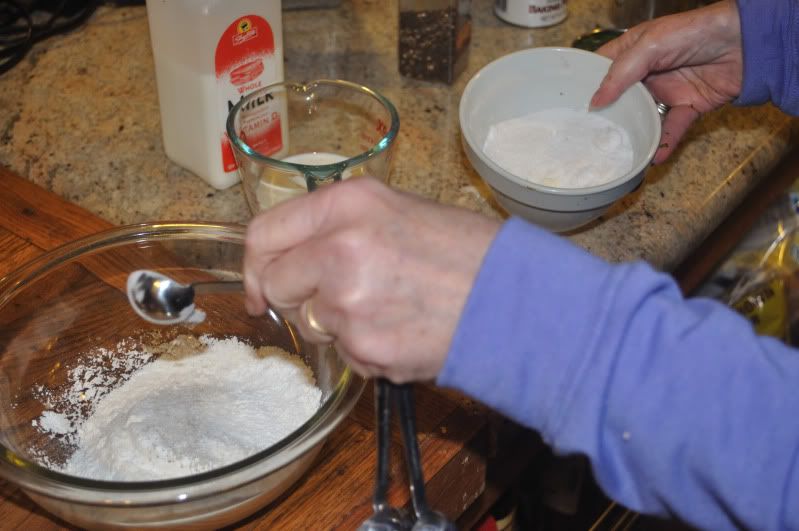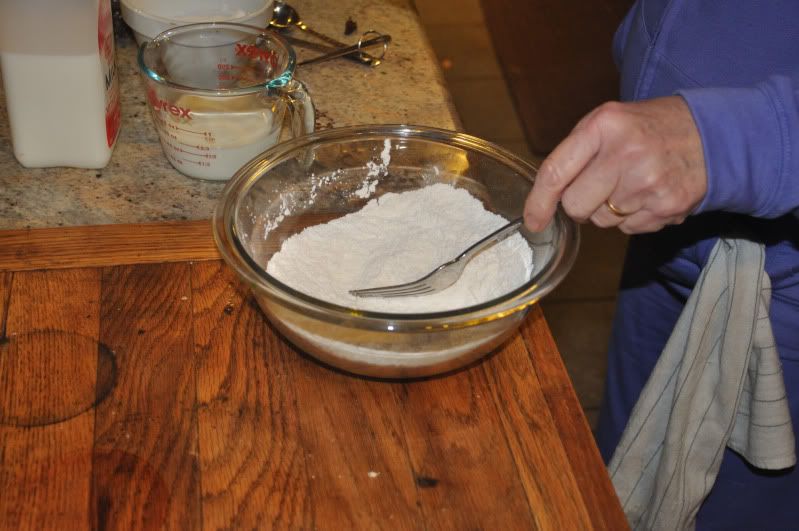 Chopped parsley, flat leaf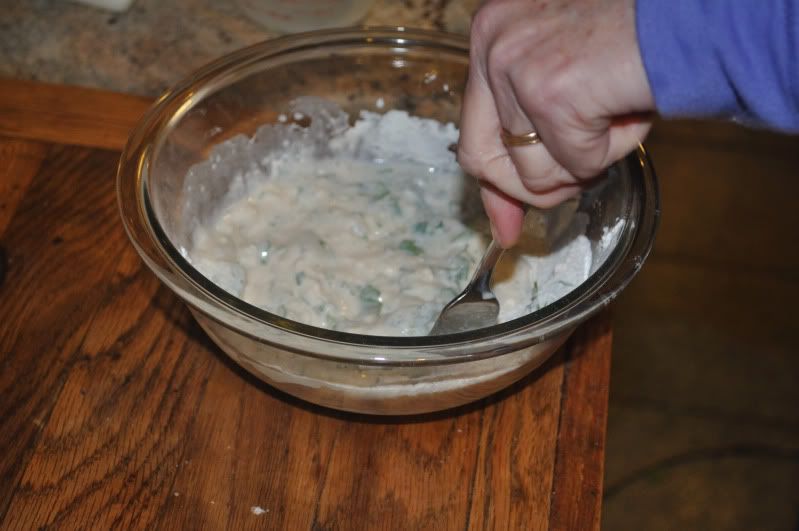 Beurre manie (Kneaded butter) is a mixture of equal parts soft unsalted butter and flour, equal in volume. As it is here it is used as a thickener
Note: If serving as leftovers, discard old dumplings at time of first meal and make new.
All other pictures Nikon D-90 AF-S NIKKOR 18-55mm f3.5-5.6G with internal flash
All contents © 2011 Virginia L. Dyson & Warner W. Johnston